At United Recovery we offer a full continuum of addiction recovery services from detox, and residential rehab, to intensive outpatient (IOP), and sober living. Substance use disorder treatment at United Recovery goes beyond residential drug treatment. Our clients have the ability to continue treatment in our program by transitioning from residential treatment to IOP. In either of these cases, clients would reside in our sober living homes or in their own homes while they continue their addiction treatment. Clients have the ability to work and they don't have to abide by the strict schedules of non-residential partial hospitalization programs.
Consequently, there are many advantages to this extension of recovery, including the fact that we customize it to fit the client. Not everyone is ready to transition away from residential treatment after 30 days. For many clients, an extended residential treatment program like United Recovery Project's are vital in helping people achieve success in recovery. For this reason, there's much to learn about this luxury addiction treatment program for recovery.
An Extended Residential Addiction Treatment Program May Be Different for Every Client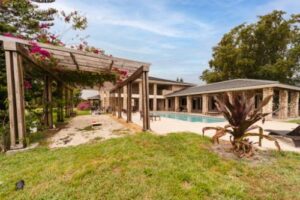 No one substance abuse treatment program works for every client. Rather, customized treatment plans are the better solution. Many clients in recovery have used drugs or alcohol for years. Still, others may have realized they needed help early on. Regardless, what works for one of these clients may not work for the other. Similarly, clients who enter treatment with secondary medical conditions, such as depression or anxiety, need an increased level of care than those who only battle addiction.
Individualization is important to recovery. While basic needs are the same across the board, mental, physical, and emotional needs vary drastically. For these reasons, some clients require longer periods of residential addiction treatment than others. Therefore, it's good to know the option is there when needed.
An Extended Treatment Program May Have No Predetermined Time Limit
Recovery from drug and alcohol addiction is less about completing a program and more about benefiting from the experience. Generally, not everyone who enters recovery finds healing in 30 days. For many clients, healing takes longer. This situation often applies to the following:
Those attempting recovery from opioid drugs or alcohol
Clients who use meth
Those who have co-occurring disorders
Clients in recovery from trauma-related disorders
Clients who identify as a different gender
More psychological issues equal more time needed to sort through them. For these clients, having the option of an extended residential program could mean the difference between recovery and defeat. It's comforting to know that treatment doesn't have to end at 30, 60, 0r 90 days.
Finding an Extended Residential Drug Rehab Program
United Recovery Project cares about your recovery. We're more interested in your comfort and your results than we are in shuffling you out the door after 30 days. Therefore, if you're searching for a drug and alcohol addiction treatment center that offers the option of extended residential care, you can call us today.
United Recovery Project is a luxury treatment center that offers a high quality of care for behavioral health issues, including substance use disorder. If you're struggling to get back on your feet or have a loved one in trouble, our experienced representative can start you on the path to recovery.
When you call today, we can verify your insurance information and walk you through the admissions process. It's all simple to do, and your life may begin to feel more manageable from the moment you pick up the phone.
Choose United Recovery Project for Extended Residential Rehab Program
Spacious campuses, gender-specific housing, and luxurious accommodations await you or your loved one at United Recovery Project. We'll devise a treatment plan that truly fits your needs, regardless of how long you may need to heal. We take all co-occurring conditions, past trauma, and the severity of your addiction into consideration during our initial assessment. You may rest assured, knowing we custom-designed your treatment to give you the best chance at a successful recovery.
When you're ready to change the direction your life is taking, call United Recovery Project at 954.429.5026. Or visit us online for more information on the services we offer.
Residential Rehab Programs Resources
Florida, New York, New Jersey, Pennsylvania, Ohio, Georgia, Massachusetts, Minnesota, Illinois, Tennessee, Oklahoma, Louisiana, Maine, California, Nevada, Colorado.