Group therapy plays a major role in most addiction therapy programs. For instance, many clients find it healing to meet in groups and participate in topics related to addiction. These may include learning new techniques for managing stress, troubleshooting ways to recognize triggers, or simply sitting and listening quietly to what others discuss.
A licensed psychiatric counselor leads a group therapy program. As a result, the conversation stays on target, and the discussion remains positive and hopeful. Clients are usually free to discuss their own feelings relating to the topic at hand, which is often beneficial to everyone listening. Group therapy at United Recovery Project offers many advantages to clients in recovery.
A Group Therapy for Addiction Florida Program Foster Feelings of Inclusion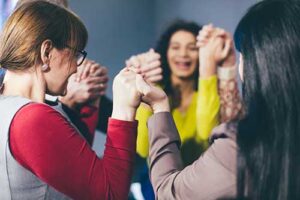 Isolation and loneliness are two devastating side effects of addiction. Often, clients who struggle with this chronic disease find themselves alienated from friends and family. Even in the 21st century, there's a stigma surrounding this condition.
Many still consider it the result of weak character or grave decisions. Neither is true. Addiction attacks the brain, and it's a real medical condition that requires treatment. Still, there's a dearth of accurate information out there that truly explains substance use disorder.
As a result, those who struggle with it become pigeonholed and labeled as weak or somehow defective. Feelings of shame or embarrassment may cause an addicted person to isolate, which only worsens the problem. As loneliness sets in, the need to self-medicate may strengthen.
Fortunately, a good group therapy program lessens these feelings of aloneness. Because there's no judgment in the group and no blame or shame, clients view it as a safe place to open up and share long-repressed thoughts and feelings.
Group Therapy Provides Fellowship
Fellowship can be immensely healing. The simple act of finding others like yourself, who are fighting the same fight and searching for the same answers, is empowering.
Congregating with others who've experienced your same trials and tribulations may help you find solutions to your own problems. In a group therapy program, clients share stories of how they overcame obstacles, resources they found helpful, and techniques they used to prevent relapse. Generally, sharing information is important, but so is feeling as though you're a part of something bigger.
How Group Therapy Can Help in Addiction Treatment and Rehabilitation
United Recovery Project is helping people just like yourself recover from drug and alcohol addiction, in our Florida rehab center. Our individualized treatment options place a high value on group therapy. In addition, we offer many other options for treatment, including:
Cognitive-behavioral therapy
Art and music therapies
Equine therapy
Exposure to nature
Mindfulness training
Our Florida luxury addiction treatment programs begin with drug and alcohol detox. Additionally, we'll continue with you through transitional living, aftercare, and relapse prevention. Complete your entire term of recovery at a single location with no need to travel between facilities.
Reach Out to United Recovery Project Today
Reach out today if you or your loved one is interested in pursuing recovery from drug or alcohol abuse in Florida. United Recovery Project offers a unique, luxurious perspective on addiction recovery.
Both our male and female accommodations are spacious and upscale. Environments are peaceful, serene, and conducive to healing. Additionally, we offer an equine-assisted therapy program that's wildly popular and highly successful. Because the bond formed between humans and horses is mutually beneficial, we feel fortunate to provide this evidence-proven therapy that has helped millions of people in their journey to recovery.
When you're ready to turn the page on this chapter of your life, United Recovery Project will be there to help you move forward. Call us at 954.429.5026, or visit us online to tour our grand, gender-specific accommodations. As a result, if you choose to begin your recovery with us, your future will be brighter than you can imagine.