Treatment for addiction is a complex and multifaceted process that can take many forms. The best treatment system for addiction will vary from person to person, depending on the individual's unique circumstances and needs. However, there are certain treatment systems that have been shown to be particularly effective for individuals struggling with addiction.
What are the Different Treatment Options for Addiction?
Cognitive-behavioral therapy (CBT)

Motivational interviewing (MI)

Medication-assisted treatment (MAT)

12-step program
Cognitive-behavioral therapy (CBT) is a type of psychotherapy that focuses on changing negative thoughts, behaviors, and emotions that are contributing to mental health issues such as addiction. CBT is based on the premise that the way an individual thinks and behaves affects their emotions and physical sensations, and that changing these patterns can help to improve mental health and overall well-being.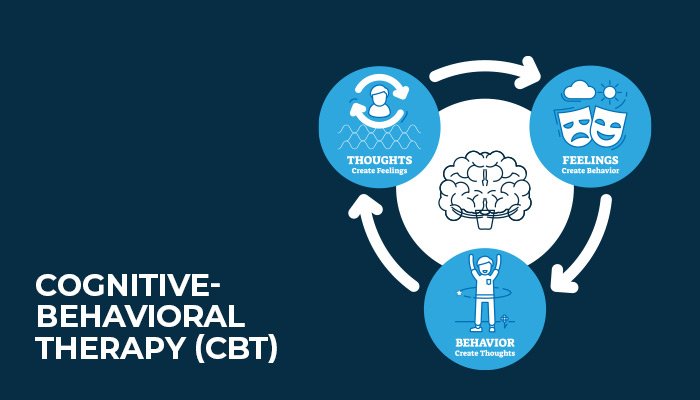 CBT typically involves working with a therapist in one-on-one sessions, where the individual is helped to identify and challenge negative thoughts and beliefs and replace them with more positive and realistic ones. The therapy may also involve behavioral strategies such as exposure therapy, where individuals confront feared situations or triggers, and learning coping mechanisms to manage cravings and triggers associated with addiction.
CBT has been shown to be effective in treating a wide range of mental health conditions, including addiction, depression, anxiety, and obsessive-compulsive disorder. CBT is considered a short-term therapy, with most treatment programs lasting between 12 to 20 sessions.
Motivational interviewing (MI) is a counseling technique that is often used in the treatment of alcohol and drug addiction. It is a client-centered approach that focuses on helping individuals to overcome any ambivalence they may feel about making changes in their lives and recovering from addiction. The goal of MI is to increase an individual's intrinsic motivation to make changes and build a more positive and healthy lifestyle.
The technique involves active listening, reflection, and support, and helps individuals to explore their thoughts and feelings about their addiction, and the reasons behind their behaviors. MI empowers individuals to identify their own motivations for change and develop a sense of self-efficacy, which is essential for a successful recovery.
Studies have shown that MI can be particularly effective for treating addiction to substances such as alcohol, marijuana, and tobacco, and can be used in combination with other treatment modalities, such as medication-assisted treatment and cognitive-behavioral therapy, for a more comprehensive approach to addiction treatment.
Medication-assisted treatment (MAT) is a form of addiction treatment that uses FDA-approved medications in combination with counseling and behavioral therapies to help individuals overcome their addiction to drugs or alcohol. The goal of MAT is to reduce withdrawal symptoms and cravings associated with addiction, making it easier for individuals to focus on their recovery and maintain sobriety. Some common medications used in MAT include methadone, buprenorphine, and naltrexone. Studies have shown that MAT can be an effective treatment option for individuals struggling with opioid addiction.
The 12-step program is a widely used treatment approach for individuals struggling with alcohol and drug addiction. It was originally developed by Alcoholics Anonymous (AA) and has since been adapted by other organizations, including Narcotics Anonymous (NA), to address addiction to a range of substances. The program is based on the belief that addiction is a chronic illness that can be managed but not cured, and that individuals must take responsibility for their own recovery. The 12 steps involve admitting powerlessness over one's addiction, seeking help from a higher power, making amends to those one has hurt, and ongoing self-reflection and growth. The program also emphasizes peer support and is designed to help individuals build a strong support network of individuals who understand their struggles. Studies have shown that the 12-step program can be particularly effective for treating alcohol and drug addiction.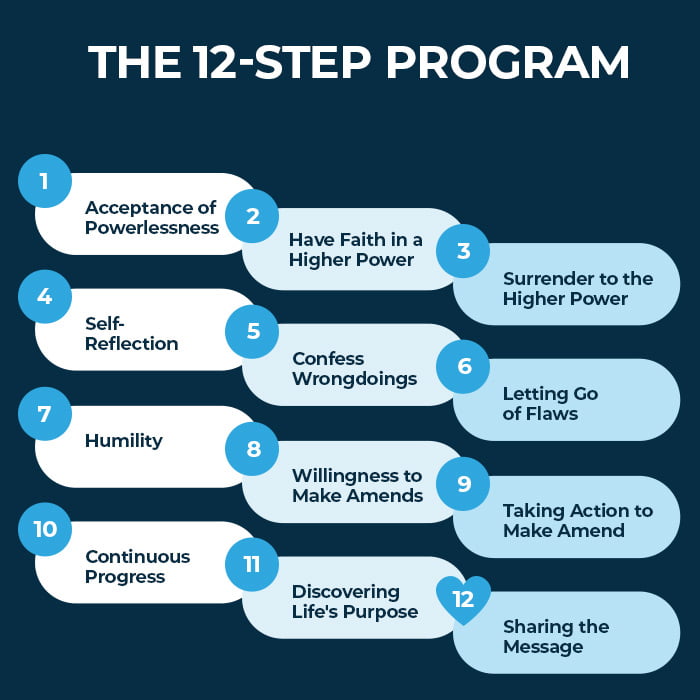 Here is a brief overview of the 12 steps:
Acceptance of Powerlessness: Recognize and acknowledge that addiction has taken control and that life has become unmanageable.

Have Faith in a Higher Power: Believe in a higher power that can provide guidance and support in the journey to recovery.

Surrender to the Higher Power: Admit that you cannot overcome addiction alone and seek support from peers and a higher power.

Self-Reflection: Engage in deep introspection to identify problem areas and understand how your behaviors have impacted yourself and others.

Confess Wrongdoings: Admit your shortcomings to a higher power and another person, and be open to growth and change.

Letting Go of Flaws: Accept and be willing to release damaging traits that contribute to addiction.

Humility: Acknowledge that you need help and humbly ask the higher power for guidance.

Willingness to Make Amends: Create a list of individuals affected by addiction and be willing to repair relationships with them.

Taking Action to Make Amends: Make efforts to reconcile with those on the list and rebuild relationships.

Continuous Progress: Regularly engage in self-reflection, confessing wrongdoings, and making amends to maintain spiritual growth.

Discovering Life's Purpose: Seek knowledge of the higher power's plan for your life.

Sharing the Message: Live by the principles of the 12 Steps and spread the message to others struggling with addiction.
Which Treatment Option to Choose?
The choice of treatment option for alcohol and drug addiction should not only be based on the effectiveness of the treatment itself, but also on the quality of the facility and the level of support and care provided. The environment in which treatment is received can greatly impact the success of the recovery process.
United Recovery Project, located in Florida, is a luxury rehab facility that offers a comprehensive and individualized approach to addiction treatment. With state-of-the-art facilities and a highly trained staff, United Recovery Project provides a supportive and comfortable environment for individuals seeking recovery from alcohol and drug addiction. The facility offers a range of evidence-based treatment options, including cognitive-behavioral therapy (CBT), motivational interviewing (MI), medication-assisted treatment (MAT), and the 12-step program, to ensure the best possible outcome for each individual. With a focus on long-term recovery, United Recovery Project provides the care, support, and resources needed for individuals to successfully overcome addiction and build a healthy and fulfilling life in sobriety.
Which Treatment Option Has Better Success Rates?
It is difficult to determine which specific treatment option has the best success rates for alcohol and drug addiction as success can be subjective and vary greatly depending on the individual. Factors such as the severity of the addiction, the presence of co-occurring mental health disorders, and the length of time the individual has been addicted can all play a role in determining success.
Research has shown that a combination of different treatment options, such as cognitive-behavioral therapy (CBT), motivational interviewing (MI), medication-assisted treatment (MAT), and the 12-step program, can be effective for addiction recovery. It is important to find the right combination of treatment options that work for the individual, and to ensure that the treatment is tailored to their specific needs and preferences.
United Recovery Project is Here to Help You
The United Recovery Project is a leading addiction treatment center that offers a range of treatment options for individuals struggling with addiction. Our experienced team of professionals works with each individual to create a personalized treatment plan that addresses their unique needs and circumstances.
Reach out to us at 888.809.9393 to find out about our addiction treatment programs. We can support you in overcoming your addiction and achieving sobriety.