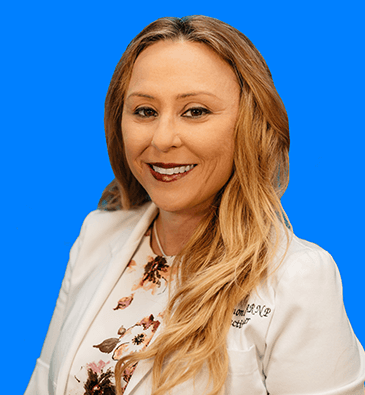 Christina Carmona, ARNP
Nurse Practitioner
Christina Carmona is a Board-Certified Family Nurse Practitioner with an extensive background in both Psychiatric and Family Internal Medicine.  
Born and raised in South Florida, Christina graduated from Florida State University with her Psychiatric Mental Health Certification.  An active member of the Florida Nurses Association, Christina continues her devotion to her profession by precepting fellow Psychiatric Mental Health Practitioner students at FSU.
As a Nurse Practitioner specializing in both family medicine and mental health care, Christina is able to provide holistic care.  She has gained experience in acute psychiatric management of patients with substance abuse, bipolar disorder, schizophrenia, mood and anxiety disorders.  Proficient in dual diagnosis treatment, Christina has practiced in all levels of care; Detoxification, Residential, Partial Hospitalization, Intensive Outpatient and Outpatient Treatment.  Other areas of practice include emergency medicine, intensive care and geriatrics.
When not caring for patients, Christina enjoys spending time with her family, which include her husband of 18 yrs. and their 6 children.  They enjoy going to the beach, family BBQ's and traveling.
"The task ahead of you is never greater than the strength within you"